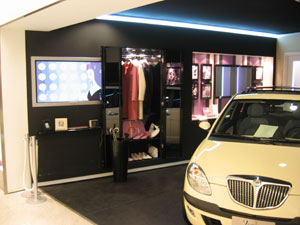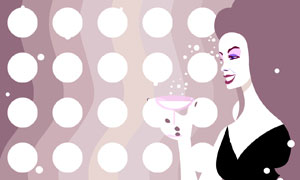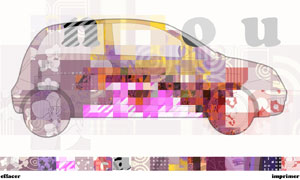 Lancia Ypsilon installation in Printemps
partners
Big Space, Milan
the brief
In order to promote the Lancia Ypsilon to a specifically female audience the car itself is displayed in the fashion department of Printemps department store in Paris. Rom and son was commissioned by Big Space in Milan to produce software which would draw attention to the installation and engage users with the car itself.
the project
On a large plasma screen touch-screen a series of fashion inspired sound reactive animations pulse rhythmically in response to ambient sound levels. They respond to any music that is playing as well as to other noise such as shouting or clapping. This response creates a simple, intuitive connection between the screen and the wider environment.
The sound reactive sequence can be interrupted at any time by touching the screen. This leads the user into a touch-screen 'finger painting' experience where they can create a personalised image of the Lancia Ypsilon. The emphasis here is not on specific features and options available with the actual car but rather on an aesthetic engagement, producing a rich, multi-layered, beautiful image with the car at it's heart. When satisfied with their creation users are offered the chance to print out their image as a card to take away with them.